World's First Interview with VTuber Gawr Gura
It's no secret that VTuber agency hololive's popularity within the Western otaku sphere has been making strides over the past year, doubly so following the introduction of their English branch half a year ago. One member of that branch in particular, Gawr Gura, or "Same-chan" as she's fondly known, has been breaking all sorts of records ever since her debut, reaching one million subscribers in little over half a month, and two million subscribers in under half a year. But there's much more to this adorable shark than just the numbers, hence why we reached out to her for her first ever interview. And she had plenty to tell us, including her mindset before her debut, her ambitions going forward, not to mention her love of Japan and its culture!
Interviewer/Author: Daisuke Marumoto
Supervision: 2016 COVER Corp.
Translation Assistance: Ryan Thomson

I want to share the love with all my fans!
――Would you care to tell us about what piqued your interest in Japan in the first place? Was it music? Games? Anime? Or perhaps something else altogether?
Gura:My first interest in Japan was actually food and games! Intricate and detailed bento lunches! One of my favorite games, Project DIVA! I dream of someday playing it on an arcade machine in Japan!
――Oh, now that's a surprise! What was the first Japanese dish you ate then?
Gura:Curry!
――Not… quite a Japanese dish, technically speaking, but definitely a popular one nonetheless.
Gura:It's crazy delicious!! I love making my own. I like adding sweetness with either apple, honey, or chutney! I make it every time winter comes around.
――You also mentioned wanting to play Hatsune Miku: Project DIVA in arcades if you ever visit Japan. Is there anything else you'd like to do, or even anywhere you'd love to visit if you visit the country?
Gura:I'd like to eat every prefecture's specialty dish. A food journey! I'd also love to visit during both spring and autumn for cherry blossom viewing, and autumn foliage!
――Your love of Japanese culture really comes across. How did you come to learn about hololive, then?
Gura:I found hololive through YouTube! I was pulled in by the colorful characters and playful 3D streams! At that moment I knew hololive was something I wanted to be a part of some day.
――You've previously spoken about your experience applying for the hololive audition, but could you tell us a little about your reaction upon learning that you had passed?
Gura:I had a mix of emotions. I felt confident that my audition was the best representation of myself I could have given. But as time went by I started to second guess myself, thinking maybe I wasn't the right pick at that time. I received the good news while I was making my morning cup of coffee. I nearly choked on it!!
――How did you feel during the time between the announcement of your debut and your first stream itself? Do you have any specific memories from that time that you'd like to share?
Gura:A specific memory I have, when the EN announcement was first made and our Twitter accounts were released. All of us were in a Discord call chatting away our nerves, waiting for the clock to hit release time. I vividly remember how dead silent we went when it was time. You could almost hear our hearts pounding together.
――Viewers were hooting and hollering about how cute it was when the first word uttered was "a" in your debut stream. Were you happy to hear about that after the fact? Or did the focus on it take you by surprise?
Gura:I was very shocked! Who knew something so short and simple would leave such an impact! It seems many people understood its simplicity, and for that I'm very happy!
――You've also talked about how your first month was an exciting yet tough one, and that time just flew by. Would you mind sharing some experiences that stood out in those regards?
Gura:I feel like I've learnt a lot about myself during this time. I pushed my own personal limits a lot. I had many great days, but also a few bad days. I know many people are relying on me to get them through their day and I always want to do my best for them. This feeling is new for me and learning how to handle such an emotion has definitely been an experience in and of itself.
――Thinking back on the past five months, have there been any happy or exciting moments that have really stuck with you? Feel free to provide multiple if necessary.
Gura:I think the most exciting moments so far have been reaching new milestones, and watching my genmates reach new milestones as well.
――Is there a particular mindset you have whenever you stream?
Gura:Yes! Happy thoughts! When I stream, I'm always there for a good time. We can all be happy together, & perhaps our happiness may rub off on someone feeling a bit down.
――There's no doubt that you've been a busy shark ever since your debut. What are your preferred ways to kick back and relax after a particularly taxing day?
Gura:I like taking a long hot bath before bed! I upgraded my bath gear recently with a neck cushion & bath-table so I can prop up my phone! It also holds a beverage. I also make sure I find time to sing. Singing is really therapeutic for me and if I go a long while without singing I begin feeling restless and uncomfortable.
――Your channel has grown at an explosive rate ever since your debut, to the point where you passed the two million subscribers mark on the 18th of January. Could you share your feelings on this with us?
Gura:I am speechless. I'm so happy that so many people enjoy happy shark. Shark's heart is big enough for everyone! I'm so excited to see what we can achieve together!
――Has anything changed about your streaming mindset as the subscriber count has risen? Or do you still approach it the same way as you did back when you first started?
Gura:The same for the most part. I think I've actually become more relaxed as time has gone on. I still just want to have a good time with everyone!
――Of all the streams and videos in your archive, are there any you'd consider your favorites? If so, could you share them alongside why you feel that way about them?
Gura:My favorites are my Outlast playthrough, my first karaoke, and my first cooking stream! Some may see these activities as mundane. "Singing? Cooking?" But sharing these moments with my fans is what made these streams some of the most incredible experiences of my life. I will remember these streams forever.
I've gotta work hard if I wanna sing on the same stage as my senpai!
――What do your fellow hololiveEN friends mean to you?
Gura:They mean a lot to me. We're always looking out for one another, and we've been through a lot together. They are very dear to me and I care about them very much. They are incredibly talented, genuine, and hardworking individuals. I'm so proud of them!
――A new batch of hololiveEN auditions was held on the 12th of February, which means we're inching closer to the day where newbies see you as their senior. How do you feel about that reality? Does the idea of people looking up to you fill you with excitement?
Gura:I'm excited!! I look forward to meeting any and all new hololive members!!
――It's not uncommon for other hololive members to pop into your stream and leave a comment or two. Your reactions at the time always indicate that you're over the moon, but how does it feel knowing that your own seniors are willing to come watch and comment on your streams?
Gura:It is so surreal! When I first saw many hololive streamers, I never knew they would one day be my senpai! And would watch ME stream?! I have to pinch myself every time!!
――The day was the 24th of October, 2020. You paid a visit to the Japanese hololive Minecraft server, only for your actions to lead to the unfortunate death of Minato Aqua. Though listeners were thrilled by this turn of events, how did that accident affect you personally?
Gura:I was so excited to see Aqua-senpai! So hyped about being in the Japanese Minecraft server! I bounced right over to Aqua-senpai bursting with enthusiasm, only to accidentally push her into some bushes. At first I was confused, then embarrassed. I wondered how Aqua-senpai felt. She gave me "Aqua's Blessing" TNT as a gift!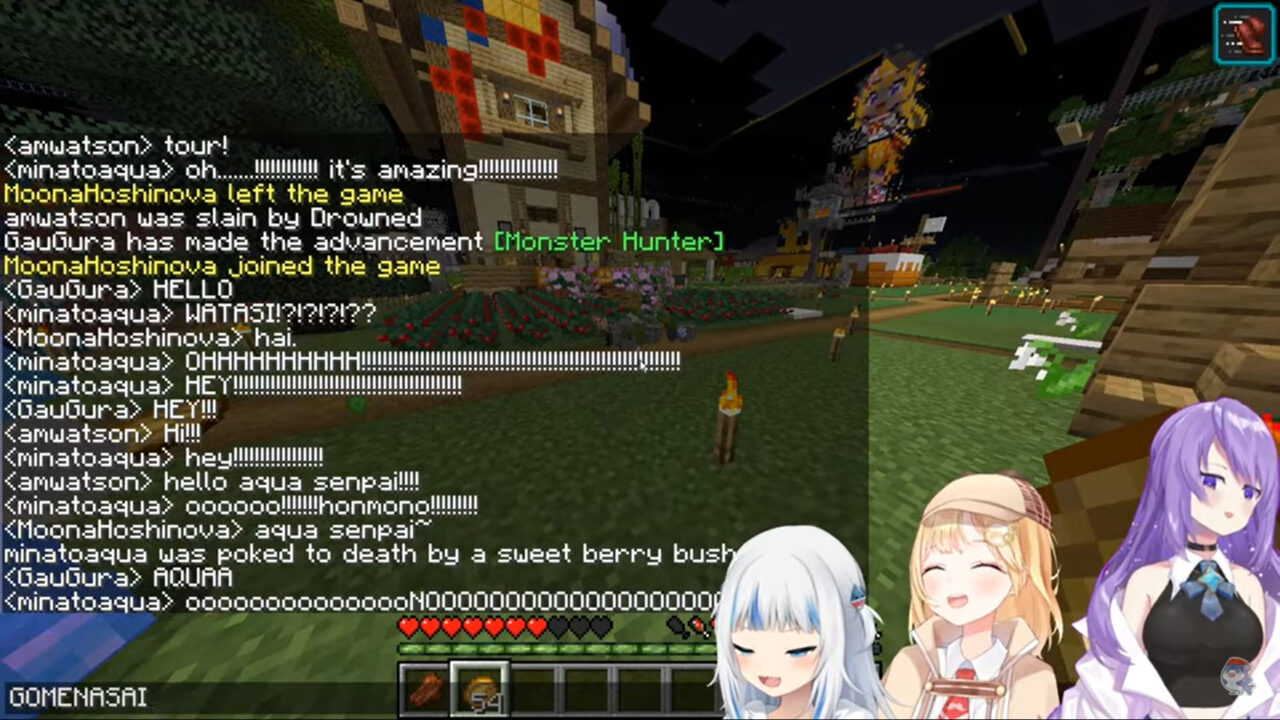 ――It's well known at this point that horror games are a particular favorite of yours, but would you mind sharing which is your favorite and why?
Gura:My favorite horror game I have played so far is Outlast! I just feel the game has really good pacing. An excellent mix of horror, gore, chase, suspense, and story! Everything needed for a great horror game!
――It's also well known that you're a lovely singer. Are there any particular artists and/or VTubers who you look up to?
Gura:I look up to many of my senpai. Sora-senpai, Suisei-senpai, Watame-senpai, and more. I look up to my own genmates Kiara and Calli. They've really created some fantastic music!
――You've also mentioned your love of Japan's city pop genre. Would you mind sharing which artists and songs you like most?
Gura:City pop is incredible! My all time favorite is Tatsuro Yamashita. RIDE ON TIME, Magic Ways, Mermaid, & Fragile are just a few of my favorite songs from him. Other artists I enjoy are Miki Matsubara, EPO, Mariya Takeuchi, and Kingo Hamada!
――You sang Tatsuro Yamashita's "RIDE ON TIME" during your debut stream, but was there a reason you opted to go with this song? Do you have a particular attachment to it?
Gura:I chose to sing "RIDE ON TIME" because it's one of my favorite songs of all time. I wanted the folks watching to get to know me, and what better way then to sing one of my favorites!
――Are there any songs you haven't sung on stream that you'd like to try your hand at someday?
Gura:Oh yes!! So many. I feel I still need to get my nerves under control. But! There are many songs from hololive I still want to sing! I want to sing them well for my senpai!
――"hololive IDOL PROJECT 1st Live.『Bloom,』" took place on February 17th. Did you have the opportunity to watch it? If so, please give us your thoughts on the concert as a whole.
Gura:Bloom, WAS AMAZING!! So much hard work went into everything. I teared up while watching. I feel so happy being a part of the hololive family, surrounded by my incredible senpai. Each live show leaves me eager to join my senpai on stage!!
――Do you feel the desire to release your own original song(s) and perform at live concerts like other hololive members before you?
Gura:Yes! It will be a dream come true to sing my own original song on stage along with my senpai. I want to work hard towards that dream. Not only for my own fulfilment, but for my fans as well. They've been so supportive since the beginning, I want to make them proud!
――And, while we're at it, do you have any other objectives or goals that you'd like to achieve in the future?
Gura:I would like to release super awesome merchandise!! I want to have a 3D debut along with my other genmates!
――Super awesome merchandise is a fine goal, but is there anything in particular you'd like to have made? T-shirts, keyholders, badges, figures, even dolls could all be on the table!
Gura:Oh yes! I have a growing list of merchandise ideas! Among the many ideas I've had, I think a dream come true would be to have a figure made! Maybe also a glowing trident fork so you can eat steak and feel POWERFUL !
――It's no secret that you have an incredibly large following within Japan, even among people who speak little-to-no English. Could we ask you to leave us with a message for that subset of your fanbase?
Gura:Hello!! I hope you are well! Even if our worlds are far apart, I hope the love in my message reaches you. I promise I will continue to do my best for you as we continue to connect virtually. I will practice my Japanese so that one day we can speak casually like good friends. I can't wait for that day. I can't wait to see what the future holds! Thank you for supporting me!
Ⓒ 2016 COVER Corp.